What to Wear to an Indian Wedding
So you're invited to an Indian wedding. Perhaps you've been to a handful of weddings every year since you could walk or maybe this is your first one. Either way, picking your outfits for the plethora of Indian wedding events can be daunting. There's inspiration coming in from all directions, especially if you're following your fashionista friends or favorite Bollywood celebrities on social media. They always seem to be wearing a (different) beautiful outfit for every event they attend. So you check to see if they've mentioned where they got the outfit from, give that designer/online store a follow, and before you know it, your feed is dominated by reels of girls in dazzling lehengas. Your fingers start to cramp from all the scrolling, you're a bit overwhelmed, and you end up just re-wearing your mom's/friend's old sarees.
Totally underwhelming, right?
We agree. That's why we're here to break it down for you, and show you that looking fabulous doesn't have to be as hard as it seems.
The events a bride and groom decide to hold may differ because of family traditions or religion. Here are the typical Indian wedding events and what you should be wearing to each of them:
Mehndi/Henna Party
The event usually kicks off the wedding festivities. The bride along with her family and friends adorn their hands with intricate mehndi (henna) designs. You'll spend some time getting your mehndi done, but you'll spend the rest of the night munching on Indian finger food, mingling, and of course - dancing!
For wardrobe, this event is more casual than the others. You'll want to be comfortable, so we recommend you wear a simple lehenga set, sharara, anarkali or kaftan. But this is also the time to get creative. There is so much happening with Indian fashion at the moment. Designers are mixing traditional patterns with modern silhouettes. People are mixing and matching pieces from different garments to create fresh looks. The mehndi night is the time to try recreate that look you saved on Instagram months ago.
Tips:
Wear a simple lehenga set, sharara, anarkali or kaftan
Make sure what you're wearing doesn't touch your hands if you plan on getting your mehndi done
Wear something bright and colorful
Go hard on the jewelry, especially since you'll be wearing something more casual 
Rent this Label Aapro dress from Indus
Pithi
The bride and groom will usually hold a pithi ceremony separately with their families in their own homes. This ceremony symbolizes the cleansing and purification of the bride and groom. To start off the ceremony, there are prayers and rituals performed. Afterwards, family and friends will apply pithi to the bride and groom's face and body. Pithi is made from turmeric, rose water and chickpea flour. It has powerful brightening properties that help the bride and groom's skin look radiant on their wedding day.
This is one of the events that stays true to traditional, and your outfit should do the same. You won't be moving around too much for this one, so you don't have to worry about wearing something free flowing and hands free.
Tips:
Wear a saree, lehenga with a draped dupatta, anarkali
The pithi is a traditional and intimate gathering, so keep this outfit on the conservative side
You'll be sitting for quite some time during this ceremony, so it's best to wear something simple - without too much beading or sequins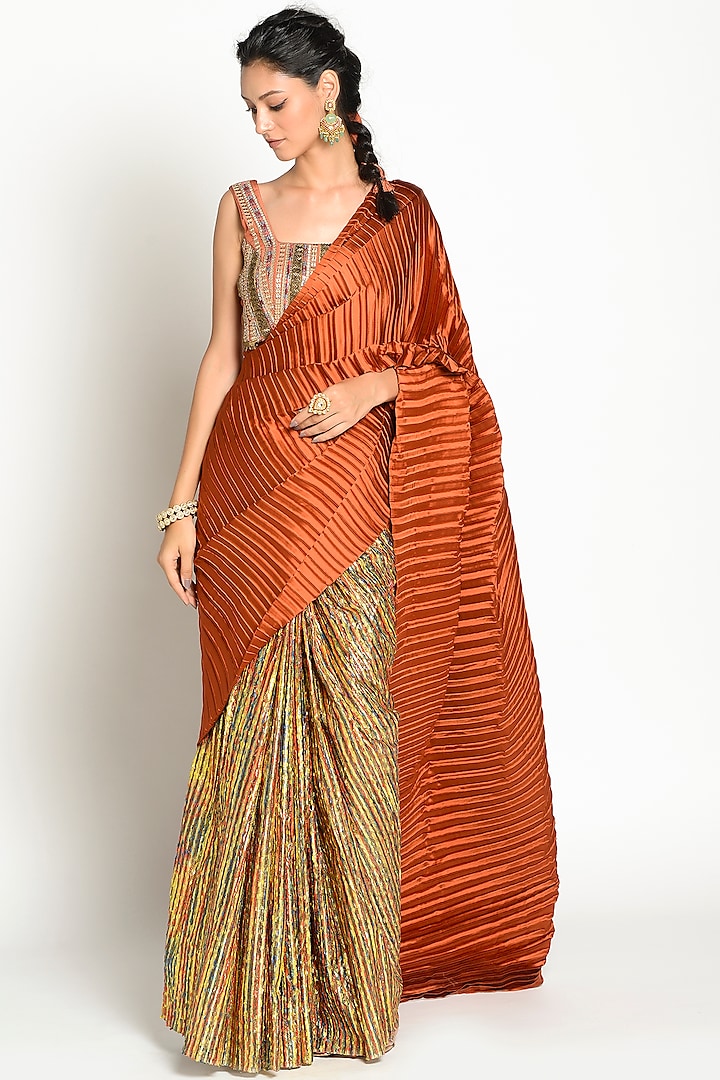 Get this saree from Rishi and Vibhuti at Pernia's Pop Shop
Get this mustard anarkali from Kalki Fashion
Sangeet/Garba
The sangeet is a night full of dancing and entertainment. Family and friends of the bride and groom will perform choreographed dances. Oftentimes, the bride and groom get involved as well. Gujarati weddings may have part of the sangeet or the entire event replaced by a garba, in which guests take part in a traditional Gujarati folk dance. Either way, you want to dress to impress. Bring out the sequins, the mirror work and the big skirts for this one. 
Tips:
Wear a lehenga set or sharara for this event
Make sure to be hands free. You don't want to worry about holding up your saree or adjusting your dupatta, so make sure everything is pinned securely into place
Wear a piece with some movement, whether that be a wide skirt, a blouse with tassels or a well draped dupatta. It looks really cool when the garment moves with you as you're dancing.
Get the Lilac, Nude & Free lehenga by Little Black Bow from Kynah
Get this maroon lehenga set from Kalki Fashion
Wedding Ceremony 
This is the moment everyone has been waiting for. A traditional Indian wedding involves a quite a few religious rituals. You're likely to see throwing of rice and flowers, a ceremonious string being tied around the bride and groom, and the couple walking around a fire together to symbolize their commitment to one another. Although this ceremony can be seem to go on for a long time, there is meaning and intention behind each ritual, making it a truly beautiful joining of two souls and two families.
Tips:
Try to keep your outfit traditional for this ceremony, as a nod to the culture
Wear a lehenga set with a draped dupatta or a saree
Make sure your jewelry is up to par with your outfit. More is more during the wedding ceremony, so don't be shy
There's probably going to be a few tears, to pack some tissues!
Rent this magenta kaftan by Shilpi Agarwal from Indus
Get this emerald lehenga from Kalki Fashion
Reception 
Let's be real - this is actually the moment everyone has been waiting for. After a long few days of festivities, what better way to finish it off than with more dancing, more amazing food, and more overall incredible vibes. As expected, a little black dress won't cut it here. It's time to channel your inner Katrina Kaif and bring out all the glitz and glamour. For the reception, there really are no rules. Stay classic or opt for a fusion Indo Western outfit. Just make sure you're looking and feeling fabulous.
Tips:
Wear a lehenga set, a kaftan, an anarkali gown, or a saree
Wear glitter, sequins, beading, feathers, ruffles, - you get the point
Your shoes will probably end up under your table as you get down on the dance floor, so make sure your outfit isn't too long if you don't want it to drag on the floor or get stepped on
Rent this blue pearl lehenga from Indus
The Nimbus saree by Mani Jassal
For more guidance finding the perfect outfit for your events, contact us at rentindus@gmail.com. We're more than happy to help!